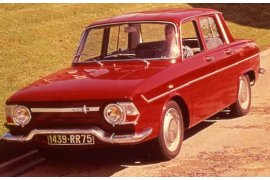 by Jo Patterson

Renault used the Dauphine as the catalyst for the design of the very popular R8 in 1962, the new design featuring a rear engined angular design that beautifully melded form with function.

The R8 featured an all new 956cc (44 SAE hp) the engine being manufactured in the Northern French town of Cleon. The new power plant was torquey and smooth, and blessed the Renault with better than average drivability.

In 1964 Renault introduced two new versions of the R8, the R8 "Major", which featured an enlarged 1108cc engine (50 SAE hp) and standard 4 speed gearbox, along with the sporty R8 Gordini which had a whopping 90 SAE horsepower on tap.

Then in 1965 the R8 was replaced by the R10, the designers stretching the new model by 20 centimeters to provide both more interior leg room along with better lugggage space. (it increasing from 240 to 315 liters).

The first of the longer R10's retained the round headlamp design of their predecessors, however these were soon replaced with the now familiar squared off design, with the indicators being located under the headlights.

1965 also saw Renault introduce their electric automatic gearbox, press-button operated. Then in 1970, the R10's engine was replaced with a more powerful 1289cc 52hp unit. Although French production would officially end in 1971, the R10 would remain in production at their Spain facility until 1973.


Number Built: n/a
Price at Introduction:
Date of Introduction:
Chassis/Body:

Unitary construction (Monocoque)

Kerb Weight:
Fuel Tank:
Turning Circle:
Instruments:

Speedometer (with integrated tripmeter and odometer)
Petrol gauge
Temp gauge
Ammeter warning lamp
Oil warning lamp

Transmission (Manual, 4 speed, fully syncromesh):

1st: 3.62:1
2nd: 2.25:1
3rd: 1.48:1
4th: 1.00:1

Clutch:

Single cushion disc, dry plate clutch with diaphragm spring
Mechanical control
Torsion damping disc

Rear Axle Ratio:

Hypoid bevel differential, final drive 4.125:1

Maximum Speed:
Fuel Consumption:
Performance:

Standing Quarter Mile (400 metres): 21.4 seconds

Engine (4 Cylinder):

Capacity: 1108cc
Type: Conventional, watercooled four stroke, reciprocating piston type with 4 cylinders, single overhead cam, removable wet cylinder liners, five bearing crankshaft
Configuration: Front mounted, longitudinal, inline
Head: Inclined overhead pushrod and rocker actuated ohv
Fuel System: Solex single downdraft type carburetor, with automatic choke pre-heated by circulating water - dry air filter mounted on carburetor
Bore and Stroke: 70mm x 72mm
Power: 50bhp SAE @ 4,600 rpm
Torque: n/a
Compression Ratio: 8.5:1

Ignition and Electrical:

12 volt, 40 amp/hr battery
22 amp dynamo
Voltage regulator

Exhaust:
Suspension:

Independent 4-wheel suspension with coil springs and telescopic shock absorbers, anti-roll bar at front

Steering:

Rack and Pinion with 3 dampers
Turning Radius: 30 ft

Brakes:

Single piston disc brakes on all four wheels with floating calipers and braking effort equaliser device. Hydraulic control. Pressure equaliser

Wheels:

15" Pressed steel disc wheels

Tyres: