| | |
| --- | --- |
| | Click picture for close up view |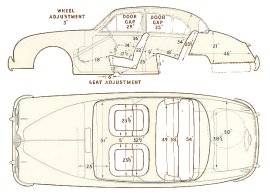 From the Jaguar Mk.II Brochure..."From the moment of their introduction the 2.4 liter and 3.4 liter Jaguar saloons scored such instantaneous successes and created such a world wide demand that a doubling of the Company's output became necessary.

Even so, demand still exceeds supply, a situation which, so far from inducing complacency, has spurred the Company to further efforts in effecting improvements to cars already of outstanding design and performance.

These efforts are crystalised in the new Mark 2 Jaguars comprising 2.4, 3.4 and 3.8 liter models and have gained much inspiration from the close relationship which has for long existed between owners and the Company, and which has found expression in the many thousands of letters addressed to us from every part of the world.

These range from the eulogistic to the frankly critical, and a very high proportion proffer suggestions covering a multitude of subjects.

Because we consider the enthusiastic interest thus displayed to be of the greatest value, we maintain a special research department whose function it is to receive, analyse and collate the contents of all such letters and to disseminate the information derived to the heads of divisions concerned with design, development and experimentation.

Thus, it can be fairly stated that much of the wealth of improvement to be found in the new Mark 2 models has been derived from owner sources, and it is significant that, to a large extent, the improvements relate to comfort, safety and driver and passenger amenities rather than to matters concerning speed, acceleration and roadholding which are already accepted by the public and press alike as being not merely adequate, but exceptional.

Nevertheless, for those who require the utmost in performance, a 3.8 liter model with limited slip differential has been made available. An examination...will reveal such advantages as greatly enhanced all-round vision, super efficient disc brakes and clear-view instruments with conveniently grouped hand controls within instant reach.

Interior heating has received special attention and, with it, adequate ventilation. Even such seemingly trivial details as the number, size and location of ashtrays, the interior illumination of the glove locker and the provision of a luminous cigar-lighter socket have been worked out with as much care as the development and positioning of the brake-fluid level indicator.

The full specifications...will repay the closest study, for they reveal that in technical excellence and in appointments and fittings, the Mark 2 Jaguars represent the most advanced and lavishly equipped luxury cars ever to be presented by this Company whose standards are acknowledged to be amongst the higest in the world."


Years of Manufacture: 1961 - 1975
Number Built: 83,980
Price at Introduction (in UK):

2.4 Mk.II: £1,082 + tax of £451 19s 2d
3.4 Mk.II: £1,177 + tax of £491 10s 10d
3.8 Mk.II: £1,255 + tax of £524 0s 10d

Chassis/Body: Monocoque
Exterior Dimensions (Roadster & DHC):

Total Length: 15" 0.75 in. (459.1 cm)
Total Width: 5" 6.75 in. (169.5 cm)
Height at kerb weight: 4" 5.9 in. (146.1 cm)
Wheelbase: 8" 11.38 in. (272.7 cm)
Front Track - Disc Wheels: 4" 7.0 in. (139.7 cm)
Rear Track - Disc Wheels: 4" 5.38 in. (135.6 cm)
Front Track - Wire Wheels: 4" 7.5 in. (141 cm)
Rear Track - Wire Wheels: 4" 6.13 in. (137.5 cm)
Ground Clearance: 7 in. (17.8 cm)

Kerb Weight:

2.4 Mk.II: 3,204 lb. (28.5 cwt)
3.4 and 3.8 Mk.II: 3,288 lb. (29.25 cwt)

Transmission (driving rear wheels, synchromesh on 2nd, 3rd and 4th):

2.4 Mk.II:

1st: 14.42:1
2nd: 7.90:1
3rd: 5.48:1
4th: 4.27:1
Reverse: 14.42:1

3.4 and 3.8 Mk.II:

1st: 11.95:1
2nd: 6.58:1
3rd: 4.54:1
4th: 3.54:1
Reverse: 11.95:1
Clutch:

Dry plate
2.4 Mk.II: 9 in. diameter
3.4 and 3.8 Mk.II: 10 in. diameter

Rear Axle Ratio:

Hypoid bevel differential
2.4 Mk.II: 4.27:1 manual and automatic transmissions, 4.55:1 when overdrive fitted
3.4 and 3.8 Mk.II: 3.54:1 manual and automatic transmissions, 3.77:1 when overdrive fitted

Maximum Speed: 201 km/h
Fuel Consumption: n/a
Fuel Tank Capacity: 12 imperial gallons (54.5 liters)
Performance (0-60 mph):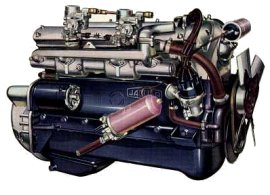 2.4 Engine:

Six cylinder, inline
Capacity: 2483 cc / 151.5 ci
Type: Conventional, watercooled four stroke, reciprocating piston type, double overhead camshafts, two valves per cylinder
Configuration: Front mounted, longitudinal
Head: Pushrod and rocker actuated ohv with two valves per cylinder
Fuel System: Twin Solex B32 PBI downdraft carburetors
Bore and Stroke: 83 mm x 76.5 mm (3.268 x 3.012 in.)
Power: 120 bhp @ 4,000 rpm
Torque: 142 lb. sq. @ 2000 rpm
Compression Ratio: 8.0:1 (optional 7.0:1)
3.4 Engine:

Six cylinder, inline
Capacity: 3442 cc / 209.96 ci
Type: Conventional, watercooled four stroke, reciprocating piston type, double overhead camshafts, two valves per cylinder
Configuration: Front mounted, longitudinal
Head: Pushrod and rocker actuated ohv with two valves per cylinder
Fuel System: Twin SU HD6 downdraft carburetors
Bore and Stroke: 83 mm x 106 mm (3.268 x 4.173 in.)
Power: 210 bhp @ 5,500 rpm
Torque: 155 lb. sq. @ 3000 rpm
Compression Ratio: 8.0:1 (optional 7.0:1 or 9.0:1)

3.8 Engine:

Six cylinder, inline
Capacity: 3781 cc / 230.65 ci
Type: Conventional, watercooled four stroke, reciprocating piston type, double overhead camshafts, two valves per cylinder
Configuration: Front mounted, longitudinal
Head: Pushrod and rocker actuated ohv with two valves per cylinder
Fuel System: Twin SU HD6 downdraft carburetors
Bore and Stroke: 87 mm x 106 mm (3.425 x 4.173 in.)
Power: 220 bhp @ 5,500 rpm
Torque: 240 lb. sq. @ 3000 rpm
Compression Ratio: 8.0:1 (optional 7.0:1 or 9.0:1)

Ignition and Electrical:

SU Electric Fuel Pump
12 volt
Coil and alternator
Battery 51 Ah.

Exhaust:
Suspension:

Front: Independent, coil springs and wishbones, anti-roll bar
Rear: Live axle, cantilever rear springs
Dampers: Telescopic hydraulic

Steering:

Recirculating ball
Turns lock-to-lock: 4.3
Two spoke steering wheel, 17 in. diameter with telesopically adjustable column

Turning Circle:
Brakes:

Bridge type front and rear, vacuum servo assisted
Front: Dunlop Disc, 12 in. diameter
Rear: Dunlop Disc, 12 in. diameter

Wheels:

Bolt on disc
Wire centre lock optional

Tyres:
Options:

Wire wheels
Dunlop racing tires



Mark 2 Jaguar Paint / Interior Trim Combinations

Colour

Interior color Alternatives

Pearl Grey
Red / Light Blue / Dark Blue / Grey
Imperial Maroon
Maroon
Cream
Red / Light Blue / Dark Blue
Claret
Red / Maroon
Cotswold Blue
Dark Blue / Grey
Black
Red / Tan / Grey
Mist Grey
Red / Light Blue / Dark Blue / Grey
Sherwood Green
Tan / Suede Green
British Racing Green
Tan / Suede Green
Cornish Grey
Red / Light Blue / Dark Blue / Grey

Also see:
Jaguar Heritage