In 1963, two versions of a totally new "Red"' 6-cylinder engine were born. They were over-square in design with lower piston speeds, with capacities of '149' and '179' cubic inches respectively. The 149 Red Engine produced 100 bhp, while the 179 was good for 115 bhp, an increase of 33% and 53% over their predecessors. The all-new "Red" engines featured:
Shorter stroke
Larger bore
Greater displacement
Increased compression ratios (8.8:1)
Seven-bearing cranks
Hydraulic valve lifters
The Red engine quickly garnished a wonderful reputation amoungst the Australian population, many considering them simply indestructable. It would continue in production for many years and in many models, finally making its last appearance in 1980 VB Commodore. Subsequent Commodore's were fitted with the "Blue" motor, from the VC through VH and VK until again being dropped in favour of a Nissan sourced 3 liter engine for the VL model.

The Blue engine was, however, very much the same Red motor that had been introduced back in 1963, although with many modifications and improvements along the way. In fact, the Red engine was modified for just about every new model Holden, particularly in capacity, and the biggest changes of all were reserved for its last outing in the VK Commodore.
Few mechanics from 1963 would be able to recognise the old girl, it now being fitted with (amoung other things) electronic fuel-injection and a computerised engine management system designed to improve the performance of the engine without loss of fuel economy. At this last stage of its development, the engine developed 106 kW (DIN) and 266 Nm - not too bad for a 21 year old 3.3- liter six!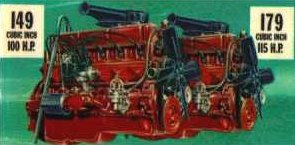 Holden "Red" Motor
image from original Holden EH sales brochure