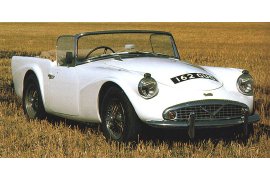 Considering the Damiler line-up of the time, the SP250 was a complete break from Daimler tradition. Sure, there was a slight resemblance to the 2.5 liter six cylinder Conquest roadster of 1953, but the minute you sat behind the wheel of the SP250 you knew the family connection was only as a resemblance - and certainly not of any substance.

In 1959 the SP250 presented as a thoroughly modern sports car, typically British in presentation with padded leather overlay, twin dial instruments directly in front of the driver, and a central minor gauge and switch-gear panel.

The front seats were naturally finished in dead cow, and even a leather steering wheel was available as an option. The rear bench seat was really only for small children, or if you were game you could sit sideways for a short time.

The optional adjustable steering, combined with the adjustable seating ensured the driver could find the best possible driving position so that they could fully enjoy the sweet spinning V8 engine, and well sorted chassis.

In fact, the main criticism when the SP250 was released was reserved for the headlight dimmer switch, it being located on the floor and, as a consequence, made vigorous night driving a chore as your left foot was forced away from the clutch pedal.

Obviously the best part of the SP250 was the engine, and what a little ripper it was. Spinning all the way to a 6000rpm redline, many of the more adventurous would take the engine all the way to the dial end, at 7000rpm.

But don't think the power was reserved for the top end only - in fact the 2.5 liter V8 pulled strongly from as low as 1000rpm, remaining smooth and flexible in delivery.

Second gear could take you to 72 mph, and third over the ton. The top speed of 121 mph was easily attainable, and with the optional Laycock overdrive it could remain at that speed all day.

Befitting a car of this calibre, the SP250 was fitted with four-wheel Girling disc brakes, which provided impressive and reasonably fade-free stopping power. The live rear axle made the going a bit lively on the rough stuff, but the ride remained compliant with negligible body roll at speed.

The same could not be said for the steering, which produced significant shaking, and the body did observe the traditional convertible body flex.

But perhaps the biggest disappointment with the SP250 was in the numbers made - too few (only 2,648 over a 5 year production life). Today the SP250 remains highly collectable, a true classic for the connoisseur.
Years of Manufacture: 1959 - 1964
Number Built: 2,648
Price at Introduction:

£983 18s 3d.
British Purchase Tax: £411 1s 9d.
Total: £1395

Options:

Wire wheels: £41 1s 7d.
White wall Tires: £11 13s 9d.
Adjustable steering column: £5 13s 4d.
Leather covered steering wheel: £12
Front bumper: £19 8s 2d.
Rear bumper: £13 9s 2d.
Tonneau cover: £15 11s 8d.
Detachable hard top: £94 18s 4d.
Borg Warner automatic transmission: £181 6s 8d.

Date of Introduction:
Chassis/Body:

Steel, Unitary construction (Monocoque)

Kerb Weight:
Fuel Tank:
Turning Circle:

33 ft. 11 in.
2.75 turns lock-to-lock

Instruments:

Speedometer (with integrated odometer)
Tachometer
Centrally mounted minor guage cluster for:

Petrol gauge
Temp gauge
Ammeter gauge
Oil gauge

Transmission:

Manual - 4 Speed
1st: 10.5:1 to top speed of 70.8 km/h (44 mph)
2nd: 6.236:1 to top speed of 115.8 km/h (72 mph)
3rd: 4.41:1 to top speed of 170.5 km/h (106 mph)
4th: 3.58:1 to top speed of 196.3 km/h (122 mph)

Clutch:

Single cushion disc, dry plate clutch

Rear Axle Ratio:

Hypoid bevel differential, final drive 4.10:1

Maximum Speed:
Fuel Consumption:

29.1 mpg (9.7 liters per 100 km)

Performance:
Standing Quarter Mile:
Engine (V8):

Capacity: 2548cc 155.49ci
Type: Conventional, watercooled four stroke, reciprocating piston type with 8 cylinders
Configuration: Front mounted, vee configuration
Head: Pushrod and rocker actuated ohv with two valves per cylinder
Fuel System: Dual downdraft type carburetor
Bore and Stroke: 3.0" (76.2mm) x 2.75" (69.85mm)
Power: 140 bhp @ 5800 rpm
Torque: 155 ft. lb. @ 3,600rpm
Compression Ratio: 8.2:1

Ignition and Electrical:

12 volt, 51 ampere-hour battery
Double dip headlights, 50/40 watt bulbs

Exhaust:

Twin tail-pipe, chrome extensions as standard

Suspension:

Front: Independent type with coil springs and wishbones
Rear: Live beam axle with semi-elliptic leaf sprin

Brakes:

Hydraulic, duo-servo
Front: Girling Disc, 10.265 in.
Rear: Girling Disc, 10 in.
Parking brake mechanically operated on rear wheels

Wheels:

15" Pressed steel disc wheels, wire wheels available as an option

Tyres:

5.90 x 15"
Pressures (lb sq. in.) F 22 / R 24 at normal operating temperature